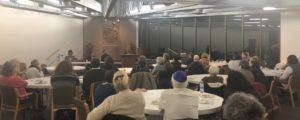 We often invite experts and representatives of various community organizations to be guest speakers at our Shabbat evening services.
Past speakers include:
Irina Manelis about Changing Immigration Policies
Erin Patterson about Opioid Addiction
Romy Dragon on Organ Donation
Dr. Hsien Marx about Heart Health
Dr. Bruce Cohen about a Developing Healthy Work/Life Balance
Ginger O'Neil from Habitat for Humanity on Affordable Housing
Marvin Harris on the historical African American Evergreen Cemetery
Speakers during the 2019-2020 Year:
Friday, November 8 – Marcia Grimsley sharing her story as a Jewish woman who befriended a white supremacist man
Friday, December 6 – Shauna Ely & Cristina Ramirez, on a Jews of All Hues Panel on what it is like being Jewish and a person of color
Friday, February 28 – Jenne´Nurse speaking about race and education
Friday, April 24 Dr. Kelley Z. Allison from VCU Health speaking about breast screening and race in healthcare (Dr. Allison's presentation will be rescheduled for when we can meet in person).
Due to COVID-19, we are only able to host speakers who feel comfortable presenting over Zoom or pre-recording their presentations. We will offer in-person speakers again once it is deemed safe to do so.
If you have a suggestion for a Friday night guest speaker, please contact Rabbi Ahuva.