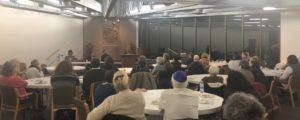 We often invite experts and representatives of various community organizations to be guest speakers at our Shabbat evening services.
Past speakers include:
Irina Manelis about Changing Immigration Policies
Erin Patterson about Opioid Addiction
Romy Dragon on Organ Donation
Dr. Hsien Marx about Heart Health
Dr. Bruce Cohen about a Developing Healthy Work/Life Balance
Ginger O'Neil from Habitat for Humanity on Affordable Housing
Marvin Harris on the historical African American Evergreen Cemetery
Upcoming Speakers:
Friday, May 10 Amanda Dulin, Margaret Rush, and Sheryl Johnson will be speaking about the Richmond Pledge to End Racism.
If you have a suggestion for a Friday night guest speaker, please contact Rabbi Ahuva.