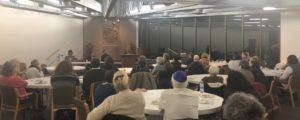 We often invite experts and representatives of various community organizations to be guest speakers at our Shabbat evening services.
Past speakers include:
Irina Manelis about Changing Immigration Policies
Erin Patterson about Opioid Addiction
Romy Dragon about Organ Donation
Dr. Hsien Marx about Heart Health
Dr. Bruce Cohen about a Developing Healthy Work/Life Balance
Ginger O'Neil from Habitat for Humanity about Affordable Housing
Marvin Harris about the historical African American Evergreen Cemetery
Marcia Grimsley about being a Jewish woman who befriended a white supremacist man
Shauna Ely & Cristina Ramirez, on a Jews of All Hues Panel about what it is like being Jewish and a person of color
Jenne´Nurse about race and education in America
Speakers in 2021
Friday, March 19 – Professional Storyteller Valerie Davis presents the story of Nancy Green
Friday, April 23 – Rachel Levy talks about Jewish values, civic engagement, and what it's like to run for office
Due to COVID-19, we are only able to host speakers who feel comfortable presenting over Zoom or pre-recording their presentations. We will offer in-person speakers again once it is deemed safe to do so.
If you have a suggestion for a Friday night guest speaker, please contact Rabbi Ahuva.