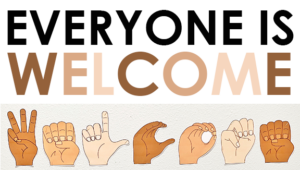 Everyone is welcome sign in American Sign Language. 
Or Ami is a welcoming, inclusive, and responsive community. We want you to feel comfortable at our synagogue. We recognize that part of being inclusive means sharing details that help everyone to make the best decisions for themselves. We also invite your feedback and involvement in meeting any community needs that we have not yet addressed.
Physical Accessibility
Or Ami's building is all one level with hallways and door frames that range between 31 and 36 inches wide. We have an ADA compliant all-gender restroom. 
We do not yet have automatic doors in the building, but the rabbi or other community members will be happy to hold the doors open for you.
There are no pews in the sanctuary. All of our chairs are moveable, so we can create space for people to sit comfortably based on their various needs. Some chairs have arms that make it easier to get out of the chair. And some chairs have no arms, so that people of any size can sit comfortably in them.
There are handrails leading up the bimah, which is three steps higher than the main sanctuary floor. Each step is 6 inches high. Eventually, we plan to install a ramp to the bimah as well. Services are typically led from the floor, so there is no need currently to come up to the bimah. We are committed to making accommodations, as needed, to facilitate participation in any ritual that may otherwise require access.
Auditory Accessibility
We are committed to using microphones whenever someone is speaking in services or other formal synagogue programs.  We understand this as a necessary accommodation for people who use hearing aids or have trouble hearing.  
Our live streamed Shabbat Services on Facebook and YouTube have an optional closed captioning setting.* The English captions are fairly reliable. Captions for Hebrew prayers are available in printed and PDF versions of our prayer books.
*To turn on the closed captioning on YouTube, click where you see the CC icon near the bottom right corner of the video screen. To turn the closed captioning on Facebook, click the gear-shaped icon near the bottom right corner for settings. Closed captions are the first setting that can be adjusted in this menu.
We do not have ASL interpreters at services. However you can read the rabbi's sermon on her Facebook page after the service or ask the rabbi for a printed copy of her sermon at the end of the service. Except for the sermon, nearly every word spoken during a service can be found written in the prayer book. Page numbers are also announced throughout the service. These will be noted in the closed captions in our live streamed services. But if you would like a volunteer guide to sit next you at an in-person service and point to page numbers during the service, please let the rabbi know in advance.
During classes at Or Ami, material is often presented in PowerPoints and questions can be asked and answered via text message or using whiteboards and markers for those who cannot speak.
Visual Accessibility
We have large-print prayer books as well as PDF files of each service available. Using a tablet device, you can zoom in on the text of the prayer book as needed. We recommend that you bring your own tablet device. However, we can provide you with a 7-inch Amazon Fire tablet if needed.
Sensory Accessibility
Fidget toys are available during classes and services. They can be found in the colorful bins near the sanctuary entrance. We also have a quiet space for children or adults to enter if feeling overstimulated by a service or other community program.
We ask that community members wear minimal amounts of perfume/cologne out of consideration for those with allergies or easily triggered headaches.
Dietary Accessibility
Please let us know about your dietary needs. Nearly all meals (including Friday night onegs) at the synagogue are potluck style. We recommend bringing vegetarian dishes to share. Out of respect for Jewish dietary laws (kashrut), we ask that you do not bring pork or shellfish to the synagogue. With advanced notice, we can provide gluten-free and vegan options at events with food. We cannot guarantee a nut-free facility, so please take extra precautions if you have a severe nut allergy. Staff have been trained to administer an epi-pen if needed.
Additional Types of Accessibility
We recognize that community members may have accessibility requirements not addressed in the sections above.  In our ongoing commitment to be as inclusive as possible, the rabbi and lay leaders at Or Ami welcome you to reach out if there are any needs you have that are not addressed here. Thank you!