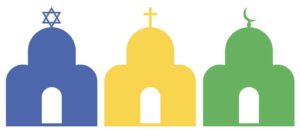 Each Spring Or Ami participates in the Bon Air & Southside Interfaith Trialogue event, which is co-hosted by the Islamic Center of Virginia and numerous churches in the Bon Air/Southside area of Richmond. Over a hundred people (mostly adults, but also some teens and younger children) come together to share food and learn about other people and religious traditions in our community.
This three-part series generally takes place in April or May and focuses on a different topic each year. Past topics have included: religious extremism, how to love your neighbor, and finding hope in challenging times. We invite you to attend the Trialogue this spring.
Trialogue Dates for 2020
Due to COVID-19, we will be rescheduling our interfaith dialogue events to a time when it is deemed safe to gather and share food together again.
Thursday, March 19th
6:30 pm – 8:30 pm
Bon Air Presbyterian Church
9201 Huguenot Road
North Chesterfield, Virginia 23235
Topic: Multi-faith Perspectives on How to View Fellow Human Beings
Thursday, March 26th
6:30 pm – 8:30 pm
Congregation Or Ami
9400 Huguenot Road
Topic: Navigating Conflicting Values & Civil Disagreement
Thursday, April 2nd
6:30 pm – 8:30 pm
Islamic Center of Virginia
1241 Buford Rd
, Richmond, VA
Topic: TBD
Click here to see an example presentation from the Bon Air & Southside Interfaith Trialogue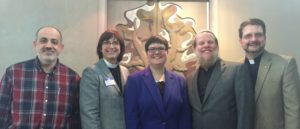 Interfaith Clergy at Or Ami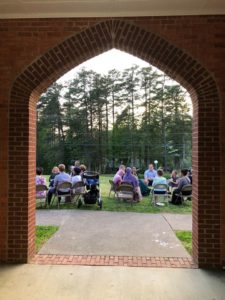 Dialogue groups outside on a beautiful evening at the Islamic Center of Virginia

Dialogue groups inside Bon Air Presbyterian Church