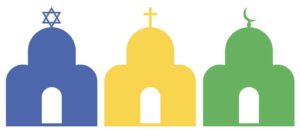 Each Spring Or Ami participates in the Bon Air & Southside Interfaith Trialogue event, which is co-hosted by the Islamic Center of Virginia and numerous churches in the Bon Air/Southside area of Richmond. Over a hundred people (mostly adults, but also some teens and younger children) come together to share food and learn about other people and religious traditions in our community.
This three-part series generally takes place in April or May and focuses on a different topic each year. Past topics have included: religious extremism, how to love your neighbor, and finding hope in challenging times. We invite you to attend the Trialogue this spring.
Trialogue Dates for 2022
Theme: "Faith Communities Reconnecting With Each Other"
*Both events will be held outdoors (weather permitting)
Thursday, May 5th
6:15 pm – 8:00 pm
Islamic Center of Virginia
1241 Buford Rd
North Chesterfield, Virginia 23235
Topic: How did we connect with our own faith during the pandemic?
tag
tag
Thursday, May 12
6:15 pm – 8:00 pm
St. Edwards Catholic Church
2700 Dolfield Drive, Richmond, VA 23235
Topic: Reconnecting with Each Other
tag

tag
Click here to see an example presentation from the Bon Air & Southside Interfaith Trialogue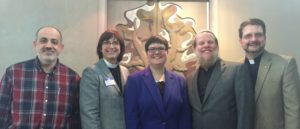 Interfaith Clergy at Or Ami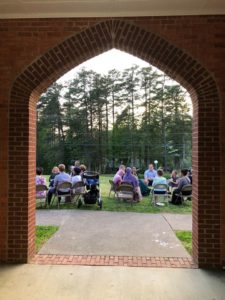 Dialogue groups outside on a beautiful evening at the Islamic Center of Virginia

Dialogue groups inside Bon Air Presbyterian Church
In 2020, our interfaith dialogue group received the
Distinguished Merit Award from the Virginia Center for Inclusive Communities.