Upcoming Events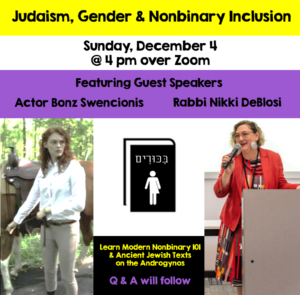 Have you heard the term "nonbinary," but aren't quite sure what it means? Are you curious about Jewish teachings on gender identity going back thousands of years?
Join us on Sunday, December 4 at 4 pm over Zoom as Rabbi Dr. Nikki DeBlosi (a Harvard graduate with a gift for explaining challenging concepts in a way that everyone can understand) and Bonz Swencionis (a Jewish, nonbinary actor known for roles in shows like 30 Rock, White Collar, and Return) share academic, spiritual, and personal insights about what it means to include nonbinary people in the Jewish community.
This event is open to the whole community for free thanks to a grant from the Jewish Community Federation of Richmond.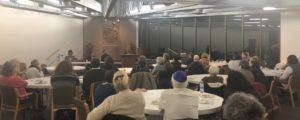 We often invite experts and representatives of various community organizations to be guest speakers at our Shabbat evening services.
Past speakers include:
Irina Manelis about Changing Immigration Policies
Erin Patterson about Opioid Addiction
Romy Dragon about Organ Donation
Dr. Hsien Marx about Heart Health
Dr. Bruce Cohen about a Developing Healthy Work/Life Balance
Ginger O'Neil from Habitat for Humanity about Affordable Housing
Marvin Harris about the historical African American Evergreen Cemetery
Marcia Grimsley about being a Jewish woman who befriended a white supremacist man
Shauna Ely & Cristina Ramirez, on a Jews of All Hues Panel about what it is like being Jewish and a person of color
Jenne´Nurse about race and education in America
Professional Storyteller Valerie Davis presents the story of Nancy Green
Rachel Levy talks about Jewish values, civic engagement, and what it's like to run for office
Speakers on Mental Health in 2022 – 2022
Friday, September 9 – Kailie Smith from Safe Harbor speaking about the impact of the pandemic on mental health and how we can help victims of domestic violence
If you have a suggestion for a Friday night guest speaker, please contact Rabbi Ahuva.