FeedMore is Central Virginia's hunger-relief leader made up of the Central Virginia Food Bank, Meals on Wheels Serving Central Virginia and the Community Kitchen. Working together to efficiently and effectively fight hunger to enhance lives in our community, FeedMore's programs provide hunger relief to our region's most vulnerable populations, particularly children, families and seniors.
FeedMore serves…
Local children who need a nutritional foundation to learn and grow
Central Virginia families struggling to provide for themselves
Your senior neighbors who need food and services for health and independence
Our region's most vulnerable people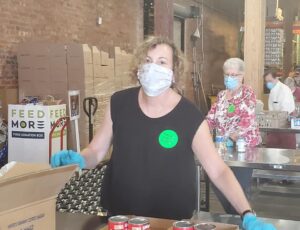 How can you help?
Or Ami has regular food drives throughout the year to make sure that FeedMore always has enough food to share with those who need it.
During the High Holy Days, we all fill paper bags full of nutritious, non-perishable foods that go to FeedMore. We typically collect several hundred pounds of food in the fall.
Around Thanksgiving, Chanukah, and Passover, we also bring in food donations to help feed the hungry. We have several donation boxes in the hall on the way to the Sanctuary at Or Ami. Whenever these boxes fill up, we arrange to take the food to FeedMore.
You are encouraged to participate in any or all of these seasonal food drives or bring food to donate any time of year. The FeedMore boxes are always open for donations at Or Ami.