Please note that many of our pre-pandemic Family Service opportunities are either on pause or being replaced with virtual opportunities.
You can check the High Holy Day page for information on our outdoor Family Services for Rosh Hashanah and Yom Kippur in 2021.
Virtual Opportunities
Want to sing the Shabbat prayers we usually sing together at our Or Ami family services?
Click below to sing them along with our songleader Rachel.
For more Jewish music, check out our Parents' Corner Page.
If you would like to watch Tot Shabbat Services led by two of the best musicians for young children in the Reform Movement, check out this Facebook page.
Example of Pre-Pandemic Family Services
While children are welcome at every service at Or Ami, we do offer Family Services throughout the year that are especially designed for children, parents, and grandparents to attend together.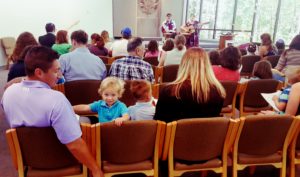 Family-Friendly Holiday Events at Or Ami:
Monday, September 30, 2019

Rosh Hashanah Family Service

4:00 pm – 5:00 pm at Or Ami
Wednesday, October 9, 2019

 Yom Kippur Family Service

4:00 pm – 5:00 at the JCC

Friday, October 18, 2019

Sukkot Family Service

6:30 pm – 7:30 Potluck Dinner in the Sukkah
7:30 pm – 8:30 pm at Or Ami

Friday, October 25, 2019

Simchat Torah Family Service

7:30 pm – 8:30 pm at Or Ami
Friday, December 27, 2019

Chanukah Family Service

7:30 pm – 8:30 pm at Or Ami
Thursday, April 9, 2020

Passover Seder

5:30 pm – 7:00 pm at Or Ami

We also have special Saturday morning services
for families as part of a program called Sarah's Tent.
Click here for a flyer with more information about Sarah's Tent.
Join us for a family-friendly Shabbat service,
fun activity, and community lunch!
Saturday Mornings at Or Ami
11:00 am to 12:30 pm
2019 – 2020 Dates
November 2, 2019 – Lego Shabbat
December 14, 2019 – Chanukah Fun
January 11, 2020 – Pizza and Games
February 8, 2020 – Tu Bishvat Crafts
March 14, 2020 – Purim Fun
May 9, 2020 – Mother's Day Crafts

Special Class Services Led by Our Children:
Friday, February 7, 2020

Third through Fifth Grade Class Service (Music Themed)

7:30 pm – 8:30 pm at Or Ami
Friday, March 13, 2020

Sixth through Eighth Grade Class Service (Purim Themed)

7:30 pm – 8:30 pm at Or Ami