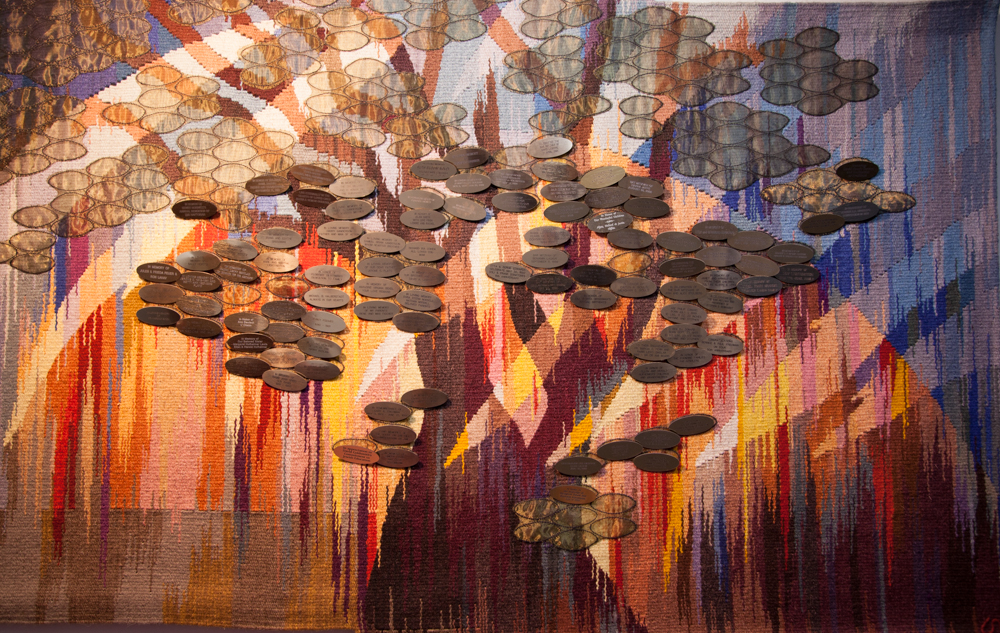 The Tree of Life tapestry hanging in the hallway was created in 1998 by the artist Mee Lee, then living in Midlothian. The Tree of Life is a tapestry created from wool, and threaded linen. It shows a Tree of Life centered between the Earth (woven in browns) and thhe Heavens (woven in blues). The Tree of Life has beams and shadows of light shining through. The curved line over and behind the Tree symbolizes G-d's Rainbow as his Covenant with mankind and all life on Earth. Although most tapestries are of regular shape, the geometric borders of this tapestry symbolize a spiritual, transcended world.
More than a beautiful piece of art that exhibits donor recognition of the accomplishments and lifecycle events of friends, family, and community our Tree of Life represents the caring, thoughtfulness and generosity of many who have chosen to call Or Ami their kehillah kedoshah (sacred community).
By purchasing a leaf for $250, you are giving a perpetual memorial that is mounted and permanently displayed as an integral part of this Tree of Life.
Gifts to the Tree of Life Program are made through Or Ami and placed in the restricted Livnot ("to build") Fund to be used to bring about transformation of the Or Ami facilities and grounds.
Contact the Or Ami office for further information or to purchase leaves to honor a loved one or lifecycle event.