Central Conference of American Rabbis' Convention in Philadelphia (March 15-18)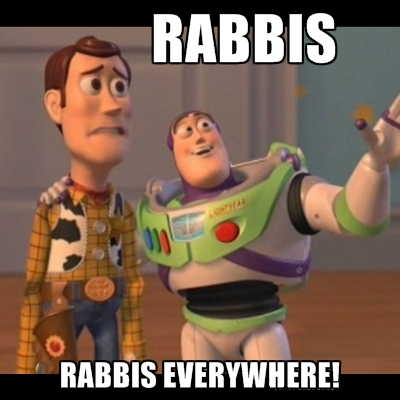 "Rabbi!" I hear someone shout. I turn my head instinctively, like many mothers do in public when someone else's child cries for "Mommy." I then realize that someone was trying to get the attention of one of the hundreds of other rabbis packed into this crowded hotel lobby. I have never had this feeling before. It's a mix of joy, excitement, and overwhelming possibilities. I know somewhere in this crowd are the faces of countless friends, classmates from rabbinical school, mentors from my past internships, and even a few authors of my favorite books.
I decide to make my way over to the reception table to enjoy a cool glass of water after a long drive from Richmond to Philadelphia. On my way to hydration, I run into several friends from different times and places in my life. We exchange hugs and updates on our lives. It's incredible how many different directions we have gone. Some began in Hillel on college campuses and are now looking to serve congregations. Others have decided to become hospital chaplains. I run into one of my favorite teachers from rabbinical school, a longtime pulpit rabbi who recently retired and moved to Israel with his husband, an ordained cantor.
It's been a long time since I've reflected on the wonder behind that last sentence, but one of the central events of this rabbinic conference reminds me that there was a time when this fact would have been whispered, if mentioned at all. I was fortunate to have grown up taking the existence of female and LGBT rabbis for granted. Everyone is excited to install our new CCAR president, Rabbi Denise Eger, as the first openly LGBT president of our Reform rabbinical organization. But amidst all of the joyful noises, there are also tears. Colleagues who helped to pave the way for this historic moment cry while thinking of the long journey towards inclusion. One straight rabbi who lost his gay brother to AIDS in the 1980's, wipes his cheek dry while repeating, "He should have been here for this moment. He should have been here." I feel so fortunate to witness this historical moment. Even before attending the many professional workshops, I feel the conference has already made good on its promise to "reignite your rabbinate."
The next day, I feel the energy in the room as a panel of rabbis and an African American reverend speak about the struggle for civil rights. Then I attend a text study session on human rights with some of the most brilliant text scholars in the Reform movement. As we go through the fascinating writings of medieval commentators together, I am reminded of the Torah's vastness and resolve to make more time for personal study. After that, I attend a session on the Reform movement's new prayer books for Rosh Hashanah and Yom Kippur. We discuss the inspiring changes in content, format, and theology. I feel proud to be part of an evolving spiritual tradition that refuses to ever grow stale. I think about how the principles of this new prayer book could invigorate our worship at Or Ami. I am excited for all of the possibilities and eager to explore them all as soon as I am back at Or Ami. Then a session on rabbinic self-care reminds me to take a breath. "You cannot exhale without first inhaling," the session leader says. Her simple sentence is full of wisdom. I take a deep breath, inhaling the energy, pride, love, and hope for Reform Judaism's ever brighter future. Each day of this conference is a whirlwind and a gift. I leave the conference, excited to metaphorically unwrap these gifts with Or Ami in the years to come.